Joined

13 Mar 2004
Messages

17,911
Location
The Sony ICF-SW100S radio looks deceptively like a cheap bedside radio but is actually a powerful SW scanner with stable digital tuning and an SSB function. There is a link to it on Amazon
here
although it is currently out of stock (there is a later model but I've not tried that).
This radio (and presumably it's successor/other SSB scanners) provide a cheap and portable way to receive 'weather-fax' transmissions which you might need if you are off the beaten track and out of range of mobile broadband (anywhere more than a few miles offshore).
I downloaded and installed
SeaTTY
on an Acer Aspire One netbook (you should be able to use almost any laptop) and linked up the sony radio to receive synoptic charts from the UK Northwood transmitter. Here's how:
The Hardware
Acer Aspire One netbook
Sony radio
Join the line out on the radio to the mic input on the netbook using a stereo 3.5mm jack to jack lead(if you have a line in use that in preference)
A wire SW antenna came with the radio and I attached one end of this to the radio's telescopic aerial and hauled the other end up a pennant halyard.
The Software
SeaTTY (see above)
Go into the audio settings in 'Windows Control Panel' and turn off any mic boost.
Go into the audio mixer and unmute the mic and set the level about 1/4 way up in the RECORDING settings.
There is a good article about weather fax on Frank Singleton's site
here
. As I am in the UK I tuned to the Northwood transmitter. The frequencies are 2618.5, 4610, 8040 and 11086.5 (all in KHz). The radio tunes to the nearest KHz so I rounded down. Also I read somewhere that as it is SSB to tune 2KHz down (don't know why but it works!) so I tuned 2616, 4608,8038 and 11084 KHZ into memories on the radio and stored them. The radio needs to be set to upper side band (USB).
Because this is HF there are loads of issues with reception depending on what the sun is doing and what goes on in the atmosphere. In practice I found that I got signals on 4608KHz in the day situated up in Newcastle, your results may differ.
Before trying to decipher faxes I listened for them coming in on the radio to make sure things were working. The fax starts with a constant tone for about 30 seconds followed by about 30 seconds of chirping followed by about 10 minutes of fax noises then there are some space invader noises, some fast data that's not to do with this which goes on for a few seconds, then some more space invaders, then there is relative silence and after a while the process repeats. Don't be put off if you don't hear anything at first because sometimes there can be gaps of 20 minutes or so when nothing is transmitted.
At this point I should say that the SW signals are very prone to interference particularly from flourescent lighting and instruments you may have on the boat so try to get things working at least at first with as much switched off as possible. With my setup the biggest killer of signals was if the netbook was on charge so try at first with the netbook or laptop running from it's battery.
Starting up SeaTTY the defaults were pretty much alright so with the radio connected to the netbook have a look at the oscillogram display to make sure you set the mixer right and that SeaTTY is seeing a signal. If not go back to the mixer settings.
To receive a fax choose Mode->HF Fax. By default this will start automatically when it hears a fax coming in but if a fax is already going when you start or is not recognised then it is OK to press 'Start' and start manually. You should now have a large window with a screen of possibly corrupt data growing on it.
Don't necessarily expect that you will get a clean fax straight away. On my netbook everything started out like a broken old fashioned television that was scrolling. To fix the skew there is a slant control on SeaTTY. Click the Slant button then look for lines in the data that might possibly be vertical lines if everything wasn't messed up. Click two points on the line to set the slant compensation and hopefully the data will now skew into something resembling a weather map. You can repeat this to fine tune.
There is another control which can fix horizontal scrolling if a big chunk of the left of the fax has got chopped off and ended up at the right of the screen. Click this button then click in the fax where you want the edge to be.
When you get a reasonable fax coming out then fine tune the radio to get the best results and fiddle with the microphone level in the mixer.
Here are a couple of charts that I got today:
A surface analysis: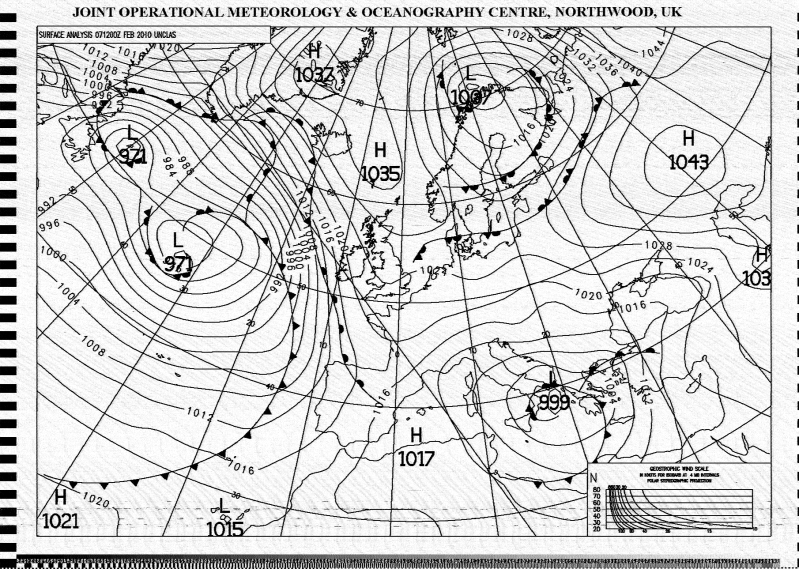 24 Hour forecast: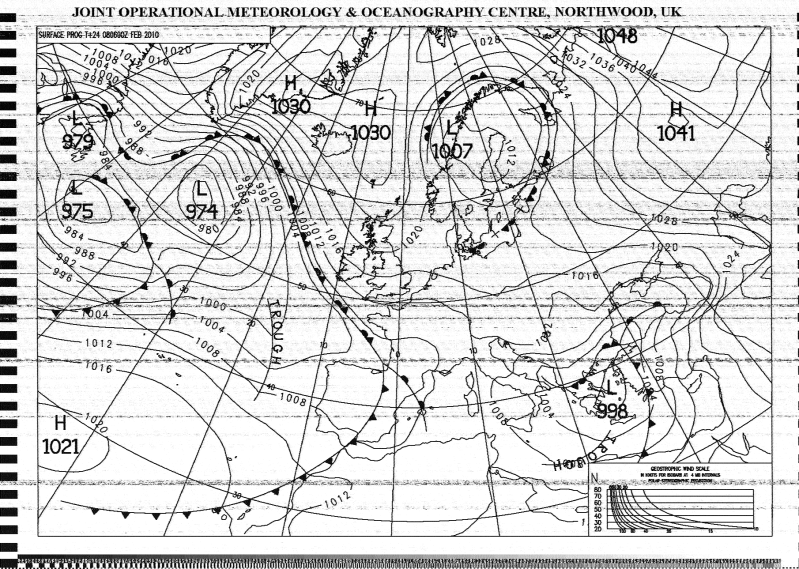 Schedule: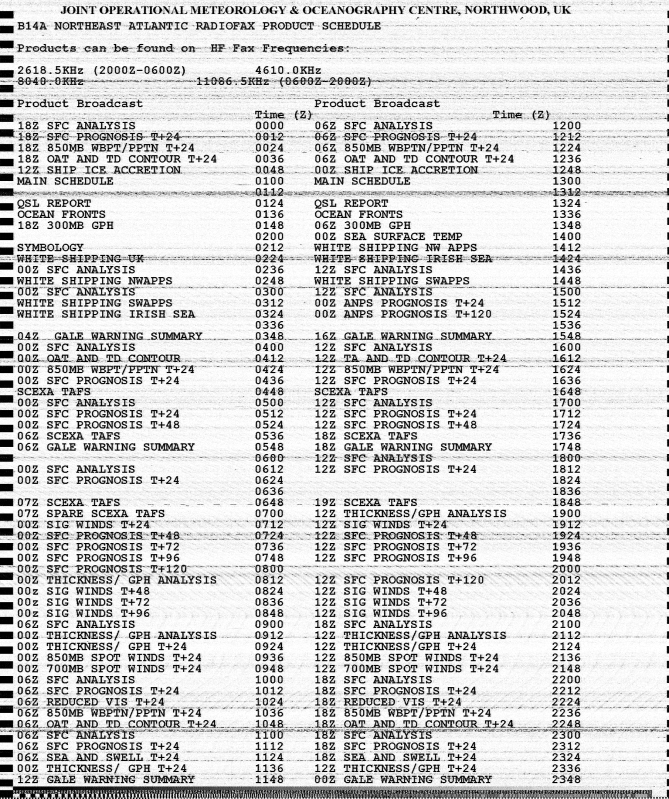 I plugged the laptop charger in half way through this one:

Last edited: