Early start to get under Aylesford Bridge without dropping arch.
Lock opens 2 hours before HW. Journey approx 1.5 hours at average of 5 knots with tide.
First landmark.
Medway Motorway Bridge.
Depth 10ft . Airdraft 100ft.
Wouldham Church.
Depth 10ft.
Burham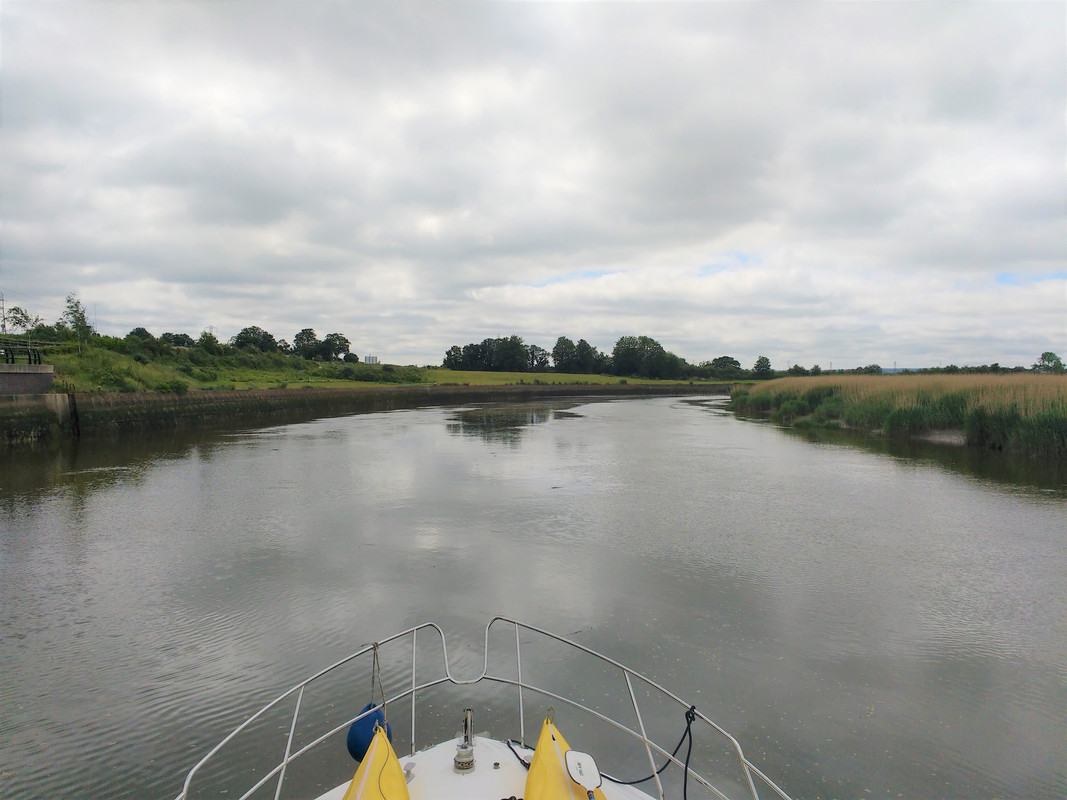 Depth 10ft.
Snodland
Depth 7ft.
Burham Old Church.
Depth 6ft.
The Hawkstone.
Depth 5ft
Old Oxbow tributory and Heronary.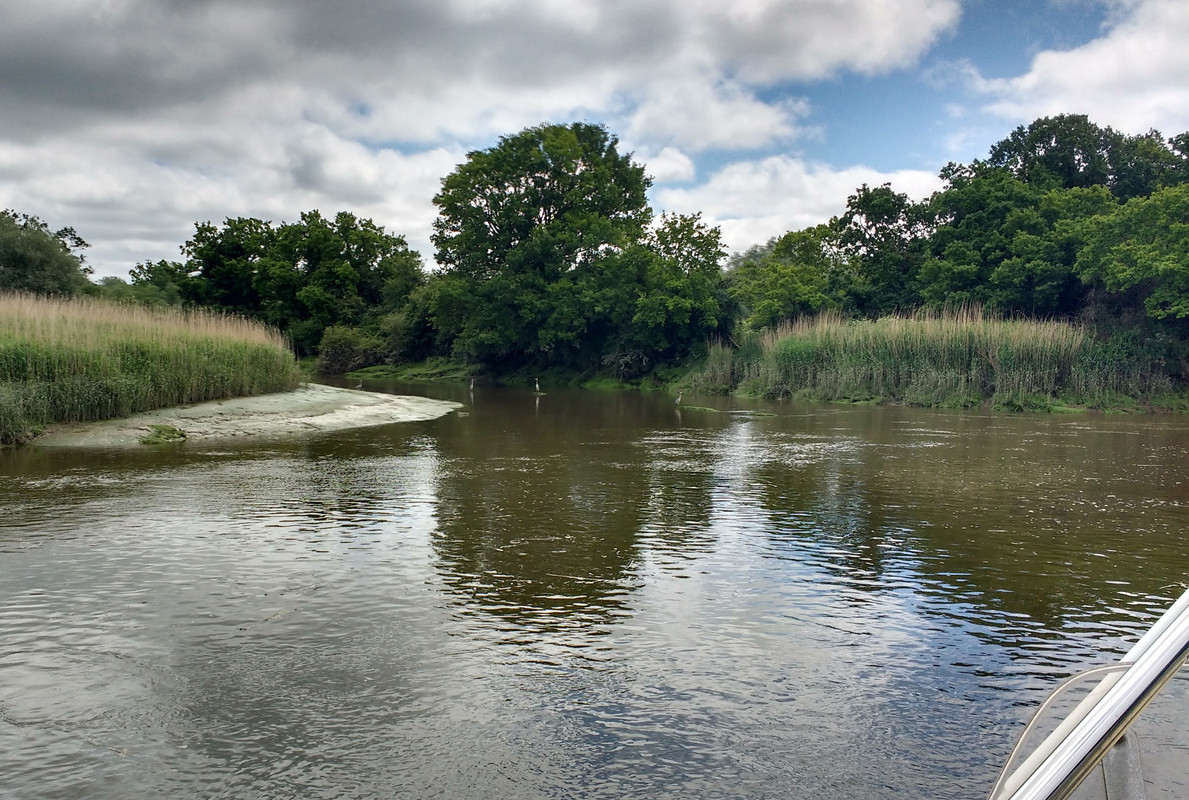 Depth 3-4 ft.
Approaching Aylesford Paper Mill site.
Depth 3-4 feet. 4 knots
Just below Aylesford Priory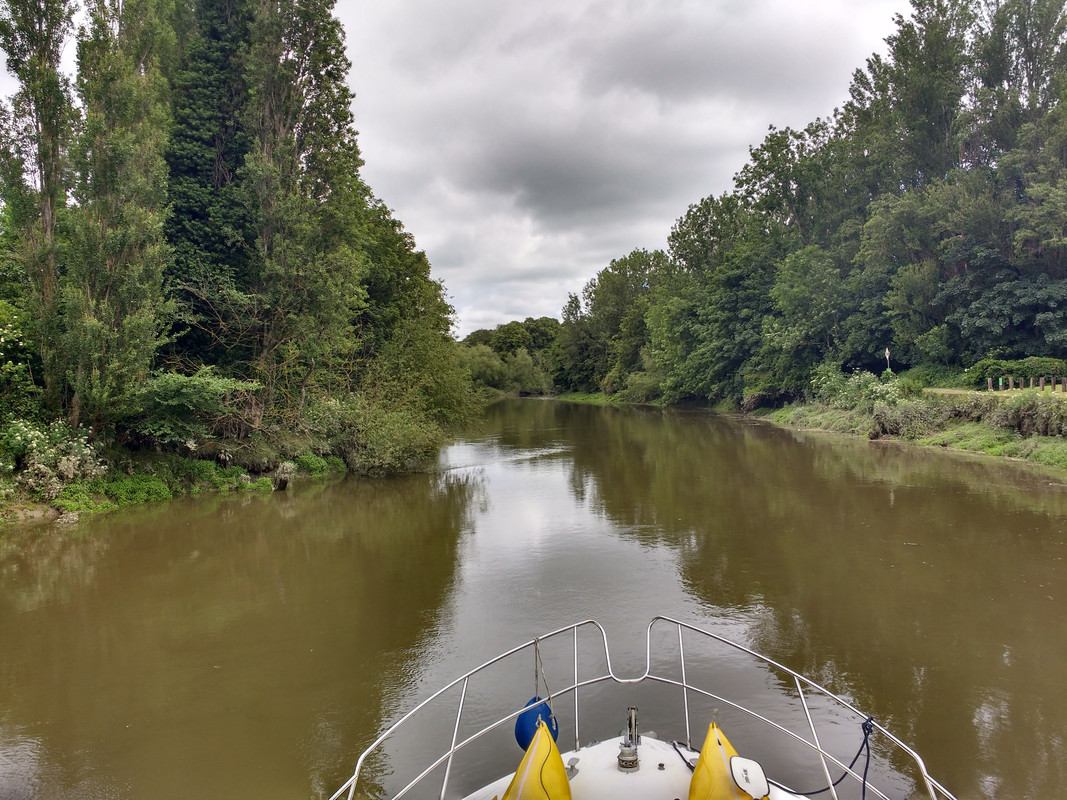 Depth 6-8 ft. 4 knots
Aylesford Priory.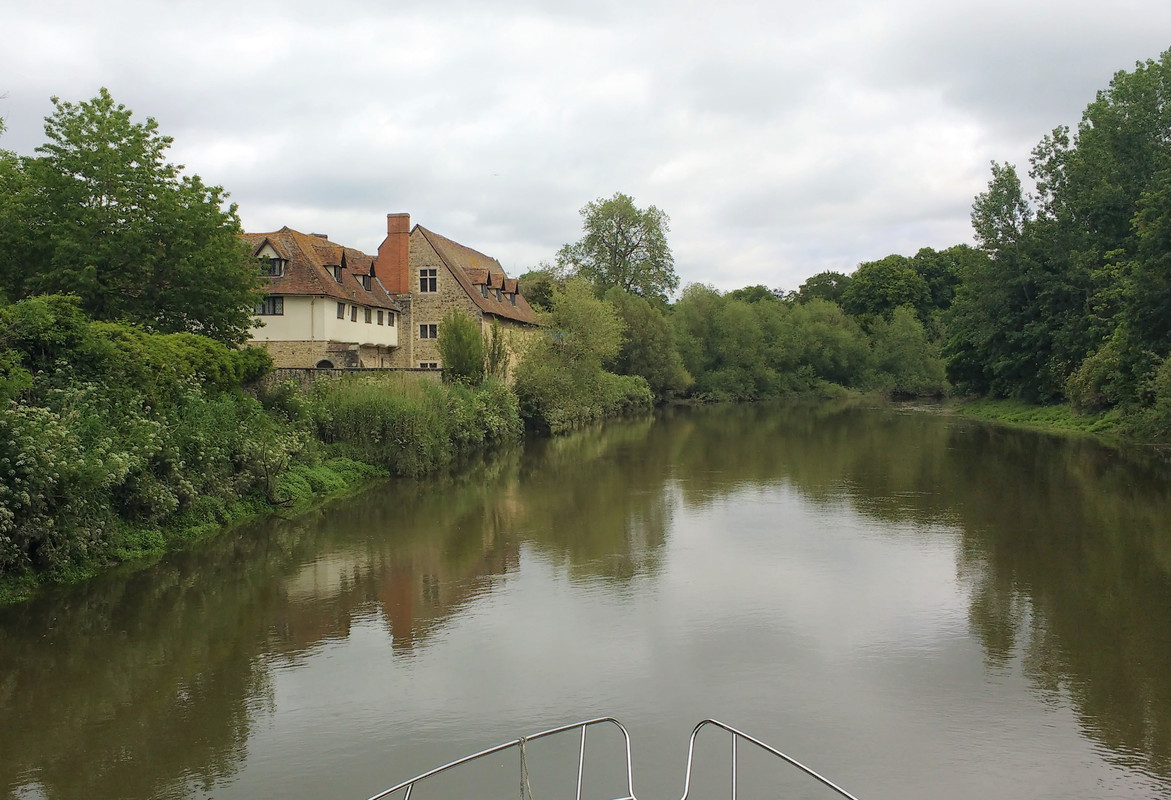 Depth 6-8 ft. 4 knots
Approaching Aylesford Village.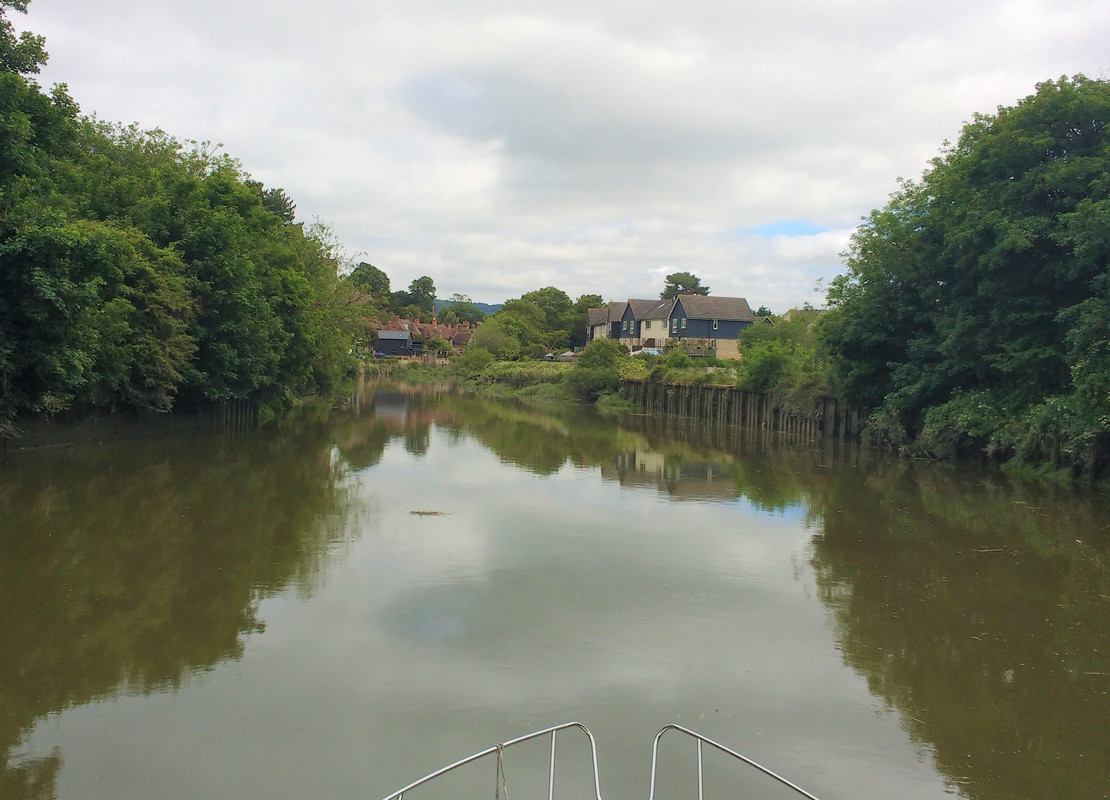 Depth 4-5 ft.
The Bridge ! 0 knots.
3 feet under the props and about 2 feet over the mooring light.
Audience in adjacent pub as always.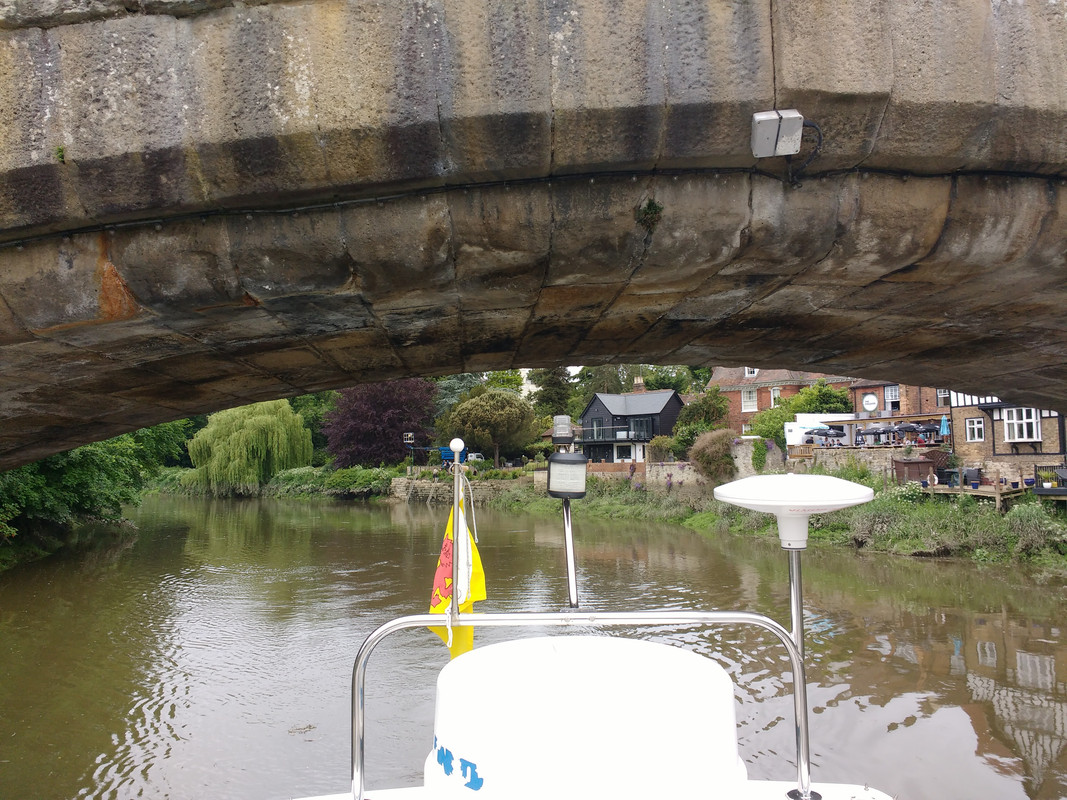 M20 Motorway Bridge. 4 knots.
Depth 6ft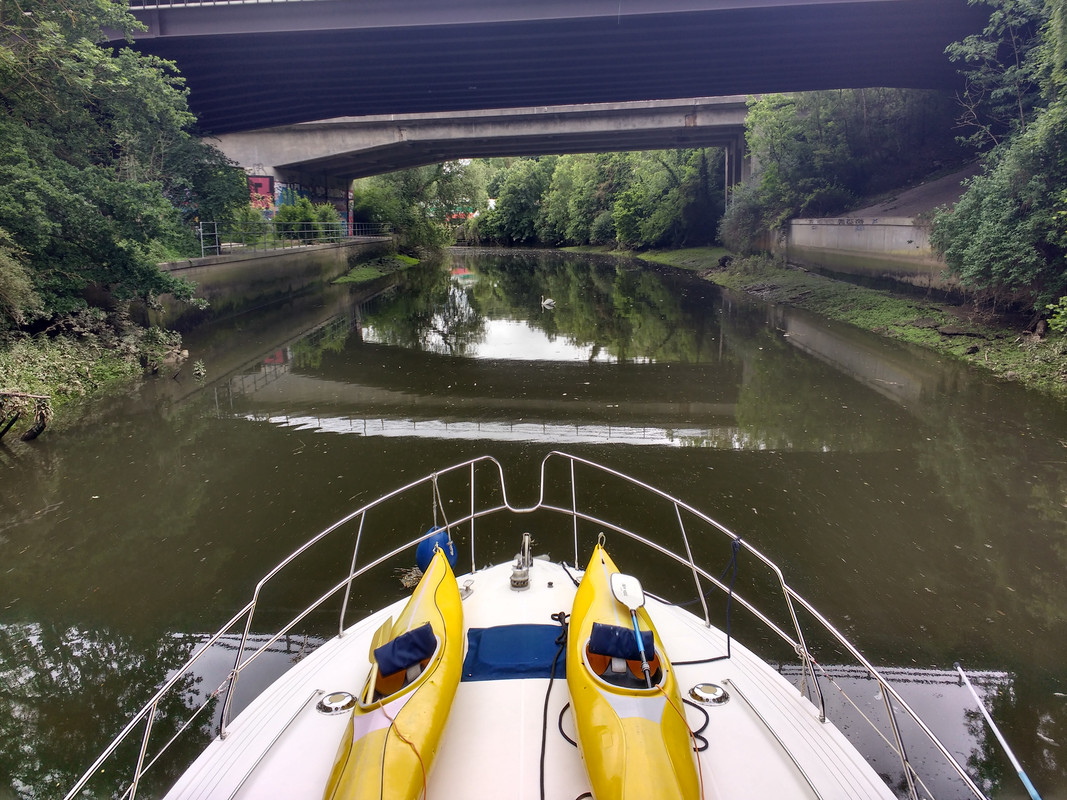 Depth 6ft.
Arrived at lock just as gates opened and a small narrow boat emerged.
Exiting on Sunday.
Enthusiastic welcome from lock staff.
I week licence and 3 days mooring with power. £102.00. Lockie was bit embarrassed about size of bill, until I mentioned that only a week or two earlier paid nearly that for single night in St Kats.
All staff seem pretty chipper about situation on the Medway especially with the amounts that have been recently invested on infrastructure regards locks, fish passes and improvements to shower and toilet facilities.
The fly in the ointment. Yobbish behaviour from a few local oiks "cooling off" at certain locks, complaints to lockies, who can do little but call local police.
River noticably clear of of rubbish.
Spotted merely two decent sized logs in entire journey and very little in the way of reeds and branches.
This is possibly due to Peel Ports sending up craft to collected rubbish and EA retrieving a tree truck or two from the tidal section immediatly below lock.
If have been considering attempting this trip, now is good time to have go.
Mooring is very limited, give them a ring to make sure there is space.
If all else fails possiblity to moor outside the Malta or Allington Marina or even go through to Maidstone Town Centre, take all the warnings with pinch of salt, have been mooring there overnight over past 30 years without a problem, its just so ******** noisy .
Last edited: