Joined

4 Jul 2012
Messages

50
AHOY ALL yachties and budding sailors ... Sailonline is about to host a virtual version of a race that it is associated with in reality and which will race, in reality, next year from Melbourne to Osaka. Sailonline has been linked with this upcoming 2018 event since early 2016 and, as you can see, this time our marketing guy in Australia has bagged the podium three some prizes from Gill Australia.
This could be an awesome race, so please do all spread the word!
Here's the full info:

Sailonline.org is pleased to team with the organising authority of the
Melbourne to Osaka Double-Handed Yacht Race 2018
to bring to prospective entrants and armchair navigators, our 2017 'Prelude 2' of the real race. The lucky podium place-takers of the Sailonline virtual race will each win a prize supplied by
Gill Australia
as follows:
With Sailonline's almost real time weather downloads from NOAA, this is intended to give prospective entrants in the real race a great opportunity to test their weather navigation skills. The 'Prelude' is timed to run at the same time of the year as the real race so weather patterns may be similar.
The Melbourne to Osaka Yacht Race is a 5,500 nautical mile 2 handed yacht race - one of the longest two handed yacht races in the world and the only one running from the southern hemisphere to the northern hemisphere. It encounters multiple weather systems and seasons as it crosses the Pacific ocean. The course takes the competitors into Bass Strait, up the east coast of Australia into the southeast tradewinds then through the doldrums on the equator. It then heads into the northeast tradewinds to the finish in the port of Osaka.
The race, first held in 1987 to commemorate the 120th anniversary of the opening of the Port of Osaka, is held approx. every four years to celebrate the City of Melbourne and the City of Osaka sister city relationship. The 2018 event coincides with the 40th anniversary of this relationship and is a collaborative effort of three yacht clubs:
Sandringham Yacht Club
- the Melbourne Host
Ocean Racing Club of Victoria
- administering the on-water activities, and
Osaka Hokko Yacht Club
- the Osaka Host
For the virtual 2017 M2O Prelude 2, Sailonline will be using the polar of a Class 40 yacht. Melbourne yacht 'Lord Jiminy' is a Class 40 and is already entered in the 2018 event. 'Lord Jiminy' and 'Nexba' are the 2 currently entered Class 40 yachts but two more are expected to enter the race.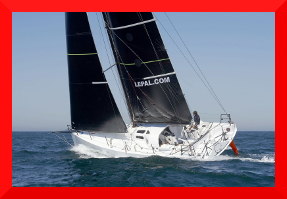 The Sailonline race opened for pre-race practice at 2200utc on 28 March 2017 and the race itself starts on 1 April at 2200utc.